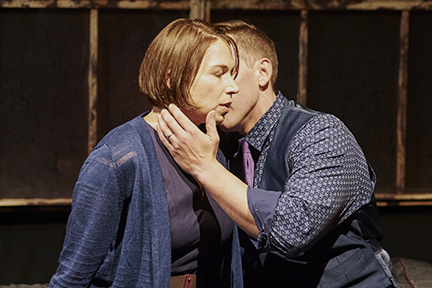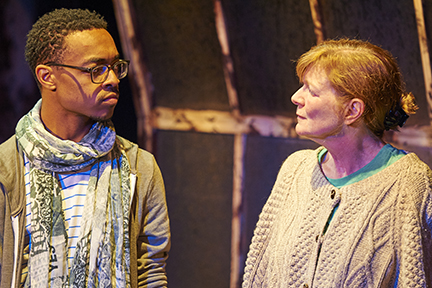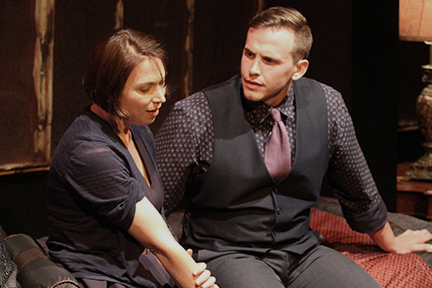 Wastwater
A U.S. Premiere
By Simon Stephens, directed by Robin Witt
Countless stories have come to an end at the bottom of Wastwater, the deepest lake in England. Tony Award winning playwright Simon Stephens' Wastwater delves into three relationships, each sitting on the edge of a defining decision. Where will their stories end, and what are the consequences of the choices we all make?
Running Time: 1 hour 40 minutes with no intermission
Production Sponsors: Bruce Beatus, Reid & Jennifer Quinn Broda, Susan Burland & George Plumb, Ken Burlington, Kassie Davis, Polina Dekhtyar, Stephen H. Johnson, Ted Lowitz, The Lunt Family, and Jim O'Neill
This work was supported, in part, by funds provided by the University of North Carolina at Charlotte.
This production contains adult subject matter and is intended for mature audiences.
CAST:
Allison Anderson
Joel Boyd
C. Richard Costes
Nick Horst*
Peter Moore*
Caroline Neff*+
Melissa Riemer*
Bernadette Santos Schwegel
Kendra Thulin*
PRODUCTION TEAM:
Director – Robin Witt*
Set Design – Joe Schermoly
Lighting Design – Brandon Wardell**
Sound Design – Thomas Dixon**
Costume Design – Emily McConnell**
Prop Design – Eric Shoemaker
Assistant Directors – Lee Start & Majel Cuza
Stage Manager – Caitlin Roper+
Dialect Coach – Adam Goldstein
Fight Choreographer – Christina Gorman
Dramaturg – Jeremy Kazan
*Denotes Steep Company Member
**Denotes Steep Artistic Associate
+Denotes Member of Actors' Equity Association
In the Press
Three Stars
"You also will not see any better acting in a Chicago theater this summer than what the women of Steep Theatre — Kendra Thulin, Caroline Neff, Melissa Riemer — are doing on Berwyn Avenue under the fearless direction of Robin Witt."
Chris Jones, Chicago Tribune
Read the full review
Four Stars
"Robin Witt's intensely intimate staging and some of the most deeply lived-in performances you're likely to see onstage right now..."
Kris Vire, TimeOut Chicago
Read the full review
Highly Recommended
"The acting here...is suberb...Witt's tightly wound direction is enhanced by Joe Schermoly's set, Brandon Wardell's evocative lighting, and Thomas Dixon's roaring sound."
Hedy Weiss, Chicago Sun-Times
Read the full review
Highly Recommended
"Simon Stephens's intimate, hyperrealistic play is a study in quiet desperation."
"Caroline Neff is particularly strong as a thuggish human trafficker."
Jack Helbig, Chicago Reader
Read the full review
"As Stephens did with his Tony-winning Broadway success, he again explores relationships, loneliness, alienation and family, tempered by the technology's influence on our planet and our lives. Presented with tension and mystery, Steep's U.S. premiere of this exciting new play is worth a dip in its deep waters.."
David Mccann, Windy City Times
Read the full review
"Like most Steep Productions, if you especially find thrill in seeing superb actors do their thing, put Wastwater on your list of must-sees."
Amy Munice, Splash Magazine
Read the full review
"Director Robin Witt uses Steep's black box space to marvelous effect in this production. ... She's generated subtle and engrossing work with the entire cast."
Sarah Bowden, Theatre by Numbers
Read the full review
"Although the stories have suggestions of climate change and globalization, they are basically stories of human frailty, tragedy, failed relationships and the consequence of choices."
"The cast of Wastwater is uniformly excellent and Robin Witt's directorial experience is clear in the sharp pacing and characterizations."
Nancy Bishop, Third Coast Review
Read the full review
"Under the skillful direction of Robin Witt, the play starts slow and builds the stakes to scary heights."
"A fierce Neff reduces Moore to a sniveling shell of a man. An unemotional Neff is frightening in her ruthlessness."
"Wastwater is what Steep does best."
Katy Walsh, The Fourth Walsh
Read the full review
"Kendra Thulin, Peter Moore and Caroline Neff once again prove that they are treasures of the Chicago stage."
Kevin Greene, NewCity Stage
"Caroline Neff, recently named an ensemble member at Steppenwolf Theatre Company, will return to Steep Theatre to star in Simon Stephens' "Wastwater.""
Morgan Green, Chicago Tribune
Read the full article
Steep Theatre's upcoming U.S. Premiere of Wastwater marks the return of two notable members of the Steep family to the Edgewater theatre: Tony Award winner and Steep Associate Playwright Simon Stephens and Jeff Award winner and Steep Ensemble Member Caroline Neff. Stephens is responsible for many of Steep's most memorable productions including Motortown, Harper Regan, and Pornography. Wastwater will be the first Stephens play at Steep since he joined the company in 2013 and won the 2015 Tony Award for Best New Play for The Curious Incident of the Dog in the Night-Time. Ms. Neff returns home to Steep for the first time since debuting on Broadway last Spring and becoming a Steppenwolf Ensemble Member in May. Robin Witt, 2015 Jeff Award winner for Best Director and 2016 nominee, will helm the production, as she did for each of Steep's past Stephens' productions.
Ms. Neff joins an already impressive cast that features Steep Company Members Peter Moore, Melissa Riemer, Nick Horst, and Jeff Award winner Kendra Thulin, as well as guest artists Joel Boyd, Richard Costes, Bernadette Santos Schwegel, and Allison Anderson. Neff, who has been an integral part of the company since 2008, will be returning to the Steep stage for the first time since their 2013 hit production of The Knowledge.
PerformInk Blog Series
In this 4-part feature, PerformInk continues it's INSIDE series and takes you behind the scenes of Steep's production of Wastwater.
See Behind the Scenes
Follow the production team as they discover and create the world of Wastwater on the wastwatertheplay Tumblr, and use #wastwatertheplay to be part of the conversation.