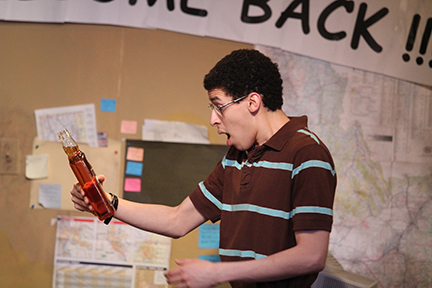 The Few
By Samuel D. Hunter, directed by Brad Akin
Four years ago, Bryan walked away from his life, his lover, and his labor of love: a newspaper for long haul truck drivers. Now he's back, without any answers and looking to finish what he couldn't on the road. In the middle of nowhere, at the edge of the millennium, The Few pulls together the pieces of lives filled with loss.
Running Time: 1 hour 40 minutes with no intermission
Performance Schedule:
April 14 - May 21, 2016
Thursday, Friday and Saturday evenings at 8pm
Sunday matinees at 3pm
Preview performances on April 9, 10, and 13
Full Performance Calendar
Production Sponsor: Anna Wermuth
CAST:
Peter Moore*
Dana Black
Travis Coe
PRODUCTION TEAM:
Director – Brad Akin*
Set Design – Lauren Nigri
Lighting Design – Becca Jeffords
Sound Design – Matthew Chapman**
Costume Design – Emily McConnell**
Prop Design – Maria DeFabo**
Assistant Director – Lexi Saunders
Stage Manager - Lauren Lassus**
Dramaturg – Maggie Rogers
*Denotes Steep Company Member
**Denotes Steep Artistic Associate
In the Press
Jeff Recommended
"The play is at once soft and hard, sentimental and cool, giving and cryptic: a modest, assured, often funny look at the struggle between love and survival."
-Tony Adler, Chicago Reader
Read the full review
"THE FEW is an honest, thought-provoking examination of human existence."
-Katy Walsh, The Fourth Walsh
Read the full review
Four Stars
"Steep Theatre's The Few showcases Hunter at his finest – from set to casting, each element conveying the struggles of the working man, woman and child."
"Hunter is a national treasure, and Steep's production of The Few is an excellent introduction to the playwright as well as a reward for the die-hard fan."
-Lauren Whalen, Chicago Theater Beat
Read the full review
"People who would like this show are people who like awesome catch phrases, equally fascinating characters, and Tetris. I think that people should definitely, definitely go see this show. I found it moving and lovely. I really loved it."
-Ada Grey
Read the full review
"Akin is a gifted director who clearly thinks a great deal about how people actually behave."
-Kevin Greene, Newcity Stage
Read the full review
"[Dana] Black and [Peter] Moore inhabit these wounded and worn-down people with great empathy and wry wit"
-Kerry Reid, Chicago Tribune
Read the full review
"Director Brad Akin completes the superb team effort with his astute observations of human ambiguity, and contradiction."
-Terence Boyle, Irish American News
Read the full review
"The Few is an unpredictable and often explosive 90 minutes of love-hate, give and take, tolerance and humility - the kind of situation everyone can relate to."
-Ruth Smerling, Theatreworld Internet Magazine
Read the full review
"Moore, Steep's artistic director, a master at playing weary and resigned, imbues Bryan with requisite depth, and Black, an off-Loop favorite who's often known (and loved) for deliciously broad roles, gives what might be her most grounded and affecting performance yet."
Kris Vire, TimeOut Chicago
Read the full review
About The Few
Steep Theatre Company continues its fifteenth season with the Chicago premiere of Samuel D. Hunter's The Few, directed by Steep ensemble member Brad Akin. Mr. Hunter's plays have received numerous critically acclaimed Chicago productions in recent years, including Griffin Theatre's production of Pocatello and Victory Gardens' productions of Rest and The Whale, which was named one of the top shows of the year by both the Chicago Tribune and TimeOut Chicago. The playwright has won an Obie Award and a Drama Desk Award, and he received the 2014 MacArthur Fellows Genius Grant. Mr. Akin directed past Steep plays strangers, babies, Under the Blue Sky, The Last Days of Judas Iscariot, and Book of Days. His productions have received multiple Jeff nominations and have been named to TimeOut's Top Ten Shows of the Year list.
"We've long admired Samuel's work and we're thrilled to have the opportunity to introduce one of his plays to Chicago audiences," said Steep Artistic Director Peter Moore. "His work really speaks to us and our attraction to stories of ordinary people in truly extraordinary circumstances." The Few received its world premiere at the Old Globe Theater in San Diego, CA in October 2013.
The cast of The Few will feature Steep Theatre's artistic director Peter Moore, Travis Coe, and Dana Black. Mr. Moore has appeared in numerous Steep productions including last summer's hit production of Brilliant Adventures as well as Simon Stephens' Motortown and Harper Regan. Mr. Coe last appeared on Steep's stage in Martyr, and he is the co-founder and artistic director of The Unexpected Laboratory. Ms. Black will be making her Steep debut in The Few. Her recent productions include Rolling at Jackalope Theatre, Abraham Lincoln was a F@gg@t at About Face Theatre, for which she received an Equity Jeff nomination for Best Supporting Actress, and American Blues Theatre's Hank Williams: The Lost Highway, which won the 2014 Equity Jeff award for Best Musical.